Peasant activist shot dead in Brazil's Amazon region
Killing of Obede Loyla Souza is fifth murder in a month in amid conflict over land and logging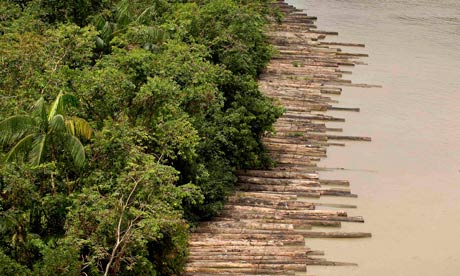 A landless peasant activist has been killed by a gunshot to his head outside his home in
Brazil
, the fifth murder in a month amid a conflict over land and logging in the country's Amazon region.
The body of Obede Loyla Souza was found over the weekend in the dense forest surrounding his home in the landless settlement of Esperanca, near the town of Pacajá in the state of Pará, said Hilario Lopes Costa, co-ordinator for the watchdog Catholic Land Pastoral in Pará.
Costa travelled to the remote settlement to interview witnesses and support the victim's wife and children, who are also afraid for their lives.
Police from the nearby town of Tucuruí confirmed the death and said the investigation was ongoing. Members of a police force created by the federal government this month to control violence in the region took the body to the state capital, Belém, for an autopsy. It was returned on Tuesday for burial. They could not be immediately reached for comment.
The state law enforcement agency in charge of land conflicts, the Agrarian Conflict Delegation, was not participating in the investigation, a spokesman said, declining to give his name because of department policy.
Souza was not on that list, said Costa.
The 31-year-old peasant was part of a landless settlement that occupied unused farmland in 2008, setting up a camp whose name, Esperanca, means Hope. He had been farming a small plot there alongside his wife and three children and waiting for the government land redistribution programme to recognise their claim.
Costa said that in January, Souza got into an argument with a representative of loggers who are illegally harvesting wood in the region, targeting the region's Brazil nut trees, which are protected under law. He knew he was in danger from then on, said Costa.
"There is in this region a really dangerous group of loggers," said Costa. "He had a fight with one of them over the cutting of these trees, and he was a marked man from then on."
Witnesses who did not want to give their names told Costa they saw four men in a pickup truck asking for Souza. The witnesses are also afraid for their lives, Costa said.
Within the last month, four activists have been shot to death, along with a witness to two of the murders.
The increase in execution-style killings led to an outcry in Brazil's government, which created a working group to monitor the region, and reinforced paltry local police forces with officers from the federal police, highway patrol and national guard.
Help must come quickly, because there are others whose lives are in danger, said the president of another landless camp, Francisco Evaristo da Conceicao.
He was friends with the victim, and part of the same movement to seize unused farmland for peasants without land. He heads the Barrageira settlement – a more established community of 107 families.
Like the victim, he had had run-ins with loggers, he said, and had been threatened by men he thought were part of the same group who killed Souza.
"We have a lot of problems with the loggers – they invade land, and clear out forest," he said. "We fight them, but it's complicated. Men have stopped at my house looking for me. Now I have to be more careful."